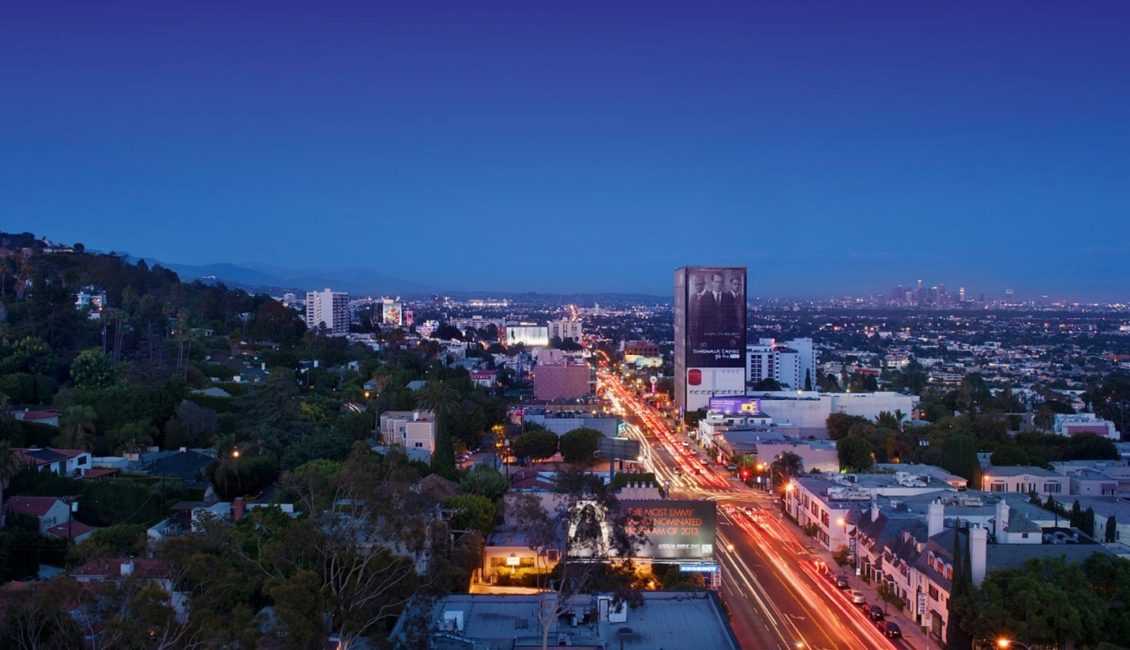 Hollywood is the what was famous hot spot before the 1950s.  West Hollywood is where locals and celebrities have been hanging out since then.  For the celebrities, it is a place to shop, dine, and party all the way to a quiet, safe haven, away from the hustle and bustle of stardom demands – it's no surprise the classic area has stood the test of time in a notoriously fast-paced industry.
What's more, West Hollywood, or WeHo in local speak, which include the famed Melrose area and famed Santa Monica Boulevard LGBTQ hot spot.  It is flanked by Beverly Hills and Hollywood – allowing you to submerge yourself into LA celebrity culture and good chance for some star sightings.
Sunset Strip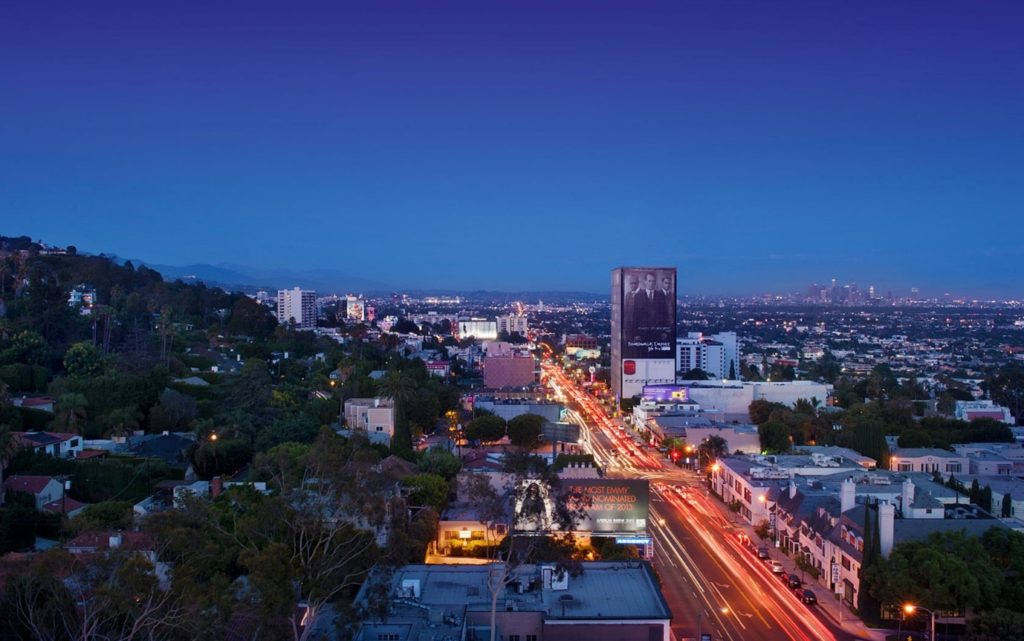 The Sunset Strip section in West Hollywood, is bustling with hot contemporary restaurants, shops, hotels, and entertainment venues (i.e. the famed Comedy Store).  It is a very safe area, where locals and visitors frequent.  On the north side of Sunset Strip is the residential area for many past and current celebrities, including Frank Sinatra, Marilyn Monroe, Johnny Depp, Katy Perry, Russell Brand, Jennifer Anniston, etc.  For them it's just a short walk or ride down the hill.
Sunset Tower Hotel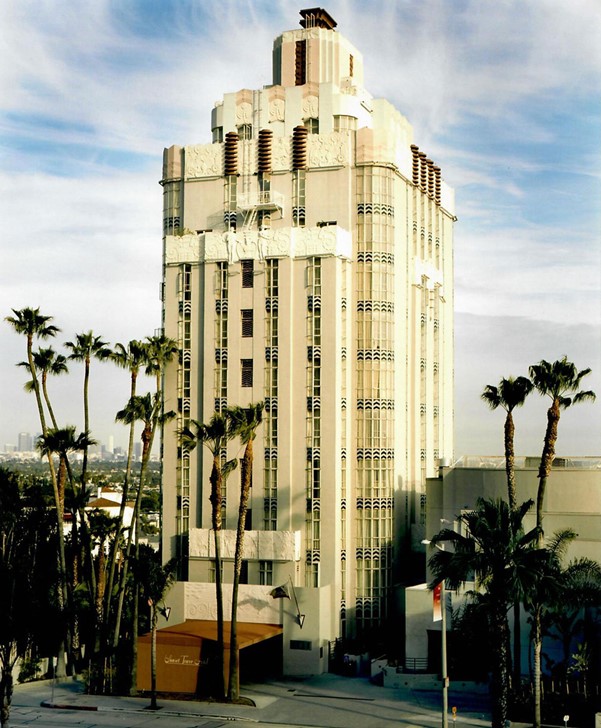 A legendary pink-hued, 15-story high building on the Sunset Strip. The Sunset Tower Hotel has been a haven for the rich and famous since 1931. Having welcomed the likes of Marilyn Monroe and Howard Hughes (famously lived in the penthouse). These days, the guest list has lost none of its a-list flair with Brad Pitt, Angelina Jolie, Jennifer Aniston, and Johnny Depp staying regularly.
And if you'd like to refresh by the pool in the luxurious Tower Bar, you'll be lounging in what used to be Bugsy Siegel's ground floor apartment. The glamorous spot is now perfect to enjoy a cocktail and relive old Hollywood while being in the midst of the new.  Locals and visitors love hanging out here.
Robertson Boulevard
You'll find the exclusive South Robertson Boulevard shopping and restaurant district just an 11-minute ride south of the Sunset Strip and bordering Beverly Hills. It is closed to cars during weekends to make it easier for restaurants and stores to expand outdoor dining and shoppers.
Famed for its place in the 90s-early 00s paparazzi scene, this charming area was a favorite among the likes of Lindsay Lohan, Paris Hilton, and Britney spears. However, over time, stars have only continued to flock to its high-end boutiques and gourmet restaurants such as celebrity-favorite, the Ivy. More recently, the Kardashians, Jessica Alba, Sandra Bullock, and Cindy Crawford have been sighted.
Urth Caffé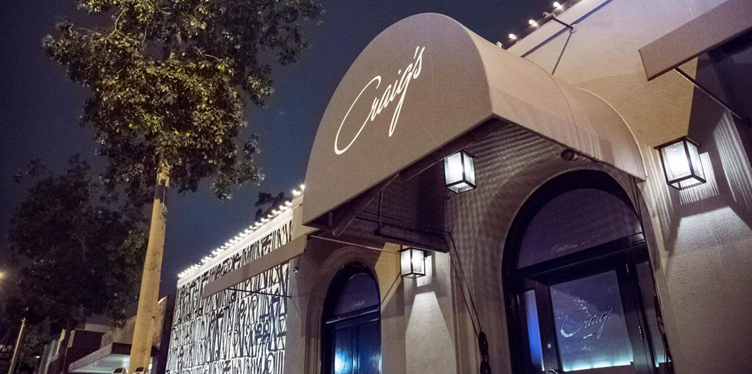 The LA-based coffee chain, Urth Caffé, sells some of the best coffee in West Hollywood. So naturally, then, the celebrities flock from far and wide to get their caffeine fix.  Miley Cyrus, Kylie Jenner, Jessica Alba, and Joe Jonas have been spotted in the locale, Urth Caffé coffee cups in hand.
Craig's
This high-end restaurant may already be familiar to you. It have the classic, go-to look that features in many reality tv shows or Hollywood films. Craig's has also been the backdrop for many paparazzi snaps, with some run-ins even being planned!
With regulars including Kim Kardashian and George Clooney, the classic American restaurant's star power is enormous. However, more recent sightings have included the likes of Joe Jonas, Iggy Azalea, and Jordana Brewster.
Chateau Marmont
This hotel's guest list is as VIP as it gets, from top-billed directors and producers to the stars themselves. Cutting a strikingly white and stately place for itself along Sunset Boulevard, could it have been anything else? However, you won't have to blow a hole in your bank balance by staying a night; dining in their traditional American restaurant will suffice. You'll enjoy mouth-watering, gourmet food in a room which was frequented by Elizabeth Taylor and John Lennon in the past. Popular figures like Leonardo DiCaprio, Lady Gaga, and even Taylor Swift are often seen visiting.
Runyon Canyon
Runyon Canyon is the new outdoors hotspot among celebs. It is located only six minute drive north of central West Hollywood, and boast over 130 acres of hikable land. Easy accessed through the classic Mulholland drive and Hollywood Hills, you could consider Runyon Canyon the backyard of stardom. Naturally then, there are regular celebrity sightings. Natalie Portman, Orlando Bloom, Justin Bieber, Channing Tatum, Kathy Griffin, Alexander Skarsgard, and Elle Macpherson, just to name a few. And, if you don't run into a celeb, you'll still be treated to picturesque views of the LA skyline/Hollywood sign.
Finally …
West Hollywood has seen it all. From the Golden era to now. It has hosted celebs from far and wide, while always remaining a bastion for LA-based superstars. By simply walking its streets, you'll be waking among superstar history. But, be sure to keep your eyes wide open (they don't look the same without make-up).  Visit the areas above to stand the best chance of spotting the most celebrities!