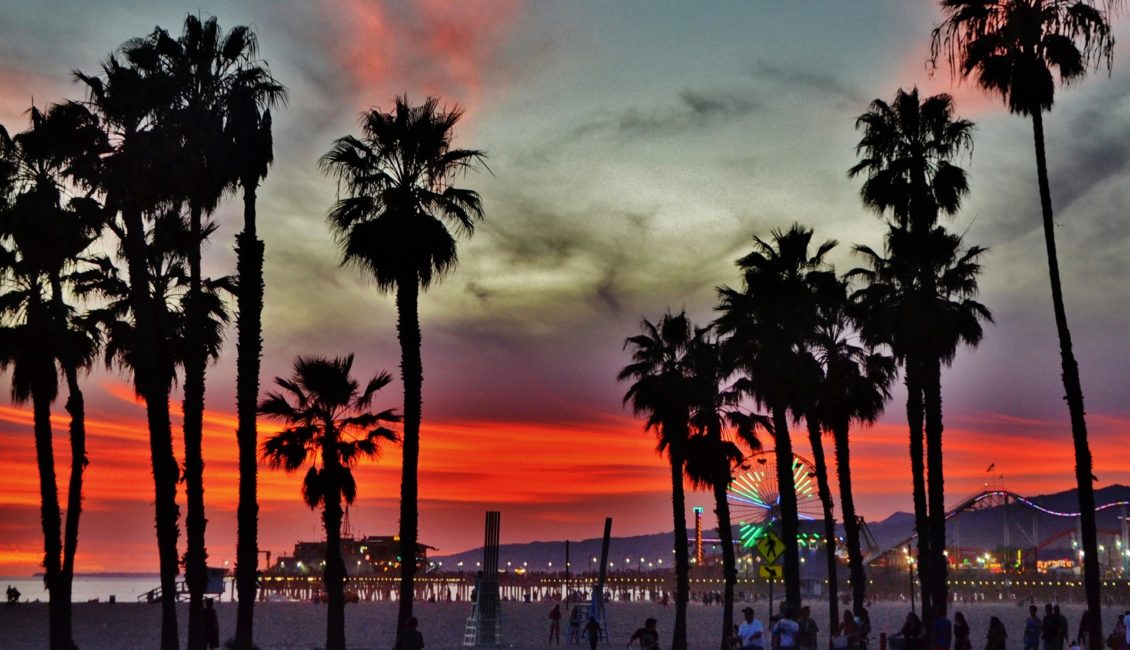 Exploring Santa Monica
Located directly on the Pacific Ocean and surrounded by mountains, at the end of Route 66, Santa Monica enjoys an average of 310 days of sunshine each year. With average temperatures in the mid to upper seventies year-round, this beachside city's weather is one of its most attractive assets and being outside is a part of the cosmopolitan city's lifestyle.
But there is so much more to discover in Santa Monica than great weather. Visitors to the Los Angeles area miss out if they don't spend a bit of time in this eclectic community.
If you are looking for a unique domestic destination to visit with iconic world-class dining, entertainment, and famous sites, Santa Monica is worth your consideration.
Many of the attractions that make the beach-front city special have found residence in our collective conscience. You may find yourself surprised at your osmotic familiarity with some of the key points of interest.
Palisades Park
The panorama from the bluffs overlooking the Pacific from Palisades Park is unforgettable. The 26 acres that make up the park are encompassed in a thin 1.6-mile section of Ocean Avenue from which you can see not only the ocean but the mountains surrounding the city as well.
The park's boundaries stretch from the Pier at its southern tip and run north to Adelaide Drive. Palisades Park includes terrific public art and a rose garden, picnic areas, and more than 30 species of plants and trees. Because some portions of the park's precipice are composed of loose soil, visitors do well to avoid getting too close to the edge.
The park is a favorite spot to engage in people-watching, with a continual presence of joggers and strollers taking advantage of the air and the scenery.
Santa Monica Famers' Market
The Santa Monica Famers' Market consists of several different venues that pop up on different days of the week. It is one of the largest and highest-rated Farmer' Markets in the entire country
Fresh fruit, vegetables, nuts, dairy, a variety of meats, and fish are grown locally. Flowers and homemade farm products like jams, juices, pickles, and salsa can also be found here.
Santa Monica Pier and Pacific Park
Running the length of Santa Monica itself, Santa Monica State Beach is, as you might expect, one of the most popular local divertissements and is well attended by the local population.
The world-renowned Pier is the beach's man-made focal point. It is home to a plethora of attractions and recognizable landmarks like the Ferris Wheel. It is the only solar-powered Ferris Wheel in the world.
The Pier has been the setting for scenes in many movies and television shows. This includes movies like Charlie Chaplin in 1914, Steven Spielberg's, Forrest Gump and Iron Man, among many others.
The Heal the Bay Aquarium is underneath the Pier also a vast array of arcade games, carnival rides, and food booths at the Pier's Pacific Park.
 Muscle Beach
Extraverted Muscle Beach Venice has an older relative.
Santa Monica's exercise jungle gym for adults is the Original Muscle Beach stretching back to the 1930s.
A Works Progress Administration (WPA) project installed exercise equipment in a city park. It quickly caught on with those willing to sport their physical, gymnastic, and acrobatic prowess on the swings, parallel bars.
Santa Monica Place and Third Street Promenade
Shopping in Santa Monica is way too easily accomplished, and the variety is staggering, from unique boutiques to familiar chain stores.
The two most prominent shopping areas are Santa Monica Place and Third Street Promenade. As a result, Santa Monica Place has many high-end retailers as well as dozens of dining and wine shops.
Third Street Promenade is the most popular shopping venue with easy access to restaurants and the Wednesday Farmers' Market.
Street performers provide plenty of impromptu entertainment and a pedestrian-friendly experience at this open-air shopping setting.
There are many excellent hotels in which to lay your head during your visit. Meanwhile, make sure to take advantage of Some of the amazing outdoor activities Santa Monica has to offer. This includes things like bike rides, Tongva Park, and the  Mountains National Recreation Area.
Coming soon: Webinar on Santa Monica